3-Phase
Smooth power and heightened efficiency with 3-phase systems
On-systems is regularly designing, developing and supplying high quality 3-phase systems for a diverse range of clients. With our pioneering products, you're guaranteed a more constant and reliable current. 3-phase power supplies allow for higher transmission at lower amperage, whilst the power of this system can be exemplified in two configurations; star connection (wye) or delta connection.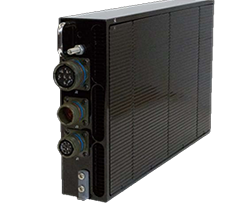 PUMA-2012 3-Phase, Wild Frequency, 2.2kW ARINC PSU
PUMA-2012 is an aerospace qualified, ARINC standard power supply.
6U High
4HP Wide
Avionics BayAirflow
Operating temperature: -46C to +90C
Altitude: 51,000ft (DO-160G)
Input Range: 115V RMS AC 3-Phase 50 to 400Hz
500mS HoldUp
Output: 28V
EMI: DO-160G
Harmonics: DO-160G Fixed Wing and Rotary Wing
Contaminant Resistant
Indirect Lightning Protection
MTBF: >150kHrs
Efficiency: 90% typ.
Download data sheet
The key advantages of 3-phase power
The key difference between a single-phase and 3-phase power supply is that the 3-phase better accommodates high power loads, whilst other advantages include:
Copper Utilisation Reduction
Reduced security and safety risks
Increased efficiency
Facility to run high power loads
A smoother form of power
Helps extend a system or product's lifespan
With a highly skilled team of UK designers, we have developed a range of dependable aerospace qualified, ARINC standard power supplies, whilst we remain agile and have grown to support partnerships in the defence, aerospace, rail, energy, marine and entertainment sectors.
A perfect match for high power applications
Whether you're seeking three phase supplies to deliver high stability and efficiency expectations, or simply require a quality system to deliver smooth and uninterruptible power, we're confident we can meet your needs. Even if our existing 3-phase products do not meet your exacting needs, we can design, develop, manufacture and supply a completely bespoke solution. Our manufacturing partners are all UK-based and certified to AS9100 (the international Quality Management System standard for the Aviation, Space and Defence). To learn more about our 3-phase power supplies, please Working with us with our friendly team today.
Speak to us about your needs